The Season: Giving and Receiving.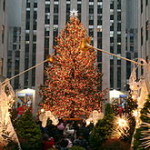 December is a remarkable time of the year—a time for giving and receiving.
Some celebrate Christmastime as a remembrance that God gave the world his Son, Jesus Christ, who taught us to love one another and to be good human beings. Regardless of one's spiritual preferences, we all share some important beliefs about this time: it is a time for brightening the long winter days with sparkling trees, visiting friends and family, and giving and receiving gifts with generosity and appreciation.
Many of us remember the excitement of Santa Claus, stockings by the fire, reconnecting with relatives—many times done exclusively at this time of the year, and feasting on special meals. As children, we were mostly on the receiving end of gift giving, but as we get older we understand the joy of finding just the right present. I was fortunate to live in the same house from the time I was three years old until I left home for college. The tree rested in the corner of the dining room, surrounded by presents that we shook and pinched and pondered about until we tore them open on Christmas morning. The stockings hung by the fireplace in the living room, empty until Santa stuffed them while we lay snug in our beds the night before the big day.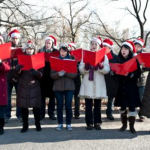 One of my fondest memories was caroling on Christmas Eve in our neighborhood, collecting donations for the charitable organization my grandmother helped found in 1910.
Our little circular street was an idyllic 1950s neighborhood of a dozen or so houses with a tree-filled green in the middle. Our fathers were professionals who'd fought in the Second World War; our mothers stayed home. There were about 15 children, all post-war babies. On that Eve, often a frosty night, we would congregate at one of the houses, gather our song sheets, and venture out in our coats, caps, and mittens to carol as far as we could walk.
Even now—all these Christmases later—I can still sing all those festive songs from memory. Back then, I didn't understand why so many of my neighbors had tears in their eyes as they listened to children's voices on their doorsteps. My heart still warms when remembering the end of the happy journey as we'd trudge back home for cocoa and cookies. While wrapping gifts to give to others, the presents I will treasure most are the joy of having my children and grandchildren with me this season, and for the friends who have blessed my life this year. So however and wherever you celebrate these days, I hope that the joy of this season will fill your heart with gladness, and you will remember to give joyfully and receive gratefully. I wish you all a Merry Christmas and a wonderful holiday season!

We'd love to add you to our email list. If you have not yet signed up, please do so by clicking here. 
Follow me on Twitter and Facebook!