Thanksgiving Thoughts
In this season of giving thanks, what will you be thankful for?
Most are grateful for families and friends, as well as for the blessings that have been bestowed upon us.   We give thanks for the food we share on Thanksgiving Day and the promise of Christmas and the New Year to come.
In addition to all these marvelous things, I am thankful for the opportunity that I had to fly in space–gaining a whole new perspective on this Earth we inhabit.
Her diversity of mountains, plains, lakes and rivers fascinates. At night, it is obvious by the lights on the ground where millions of humans have found the best places to live. But even in vast desert lands, there is the sparkle of the few who cling to outposts far from civilization, a tribute to human adaptability. White contrails of airplanes crisscross the sky, speaking of the discoveries that draw us all closer together.
The wakes of huge ships on ocean surface announce we have conquered the seas. The technology and engineering that have made all this possible reminds me how lucky we are to live in this time.
This year, I will be especially grateful for the country in which we live.
In this time of turmoil around the world, of terrorism and the massive movement of refugees fleeing savagery, we Americans are blessed to live in a place where we feel safe. There is no fear of a knock on the door, to be dragged off in the night by the police. We aren't afraid of being overrun by vicious armies or being struck by rocket attacks from afar. We don't fear freezing or starving. We live in a bountiful country that God has smiled upon.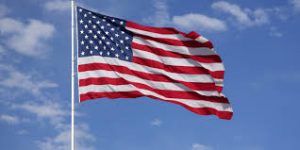 God Bless America. Be Thankful. Pray for Peace for All, Everywhere.
-Rhea
We'd love to add you to our email list. If you have not yet signed up, please do so by clicking here. 
Follow me on Twitter and Facebook!