Go for Launch – or Lunch!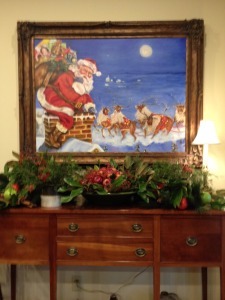 Friday, December 5, 2014: I watched the countdown to the perfect launch of Orion, the first test flight of a capsule that may someday take humans to Mars.
It brought back memories of the glory days of NASA. Grand events like that take careful advance planning, a team of skilled and enthusiastic people, and the perfect base of operations. Oh yeah, cooperative weather, as well.
Afterwards, I baked two almond chicken casseroles. It was also the day of my charity group's annual ladies luncheon. The two events had much in common.
Excitement builds every year as my diverse and dedicated friends plan the year's party and decide who will fill each role. Each of the twenty-three of us has skills and abilities that contribute to the occasion.
Ginger provided the menu list, mixing just the right dishes—hot and cold foods, not too many complicated recipes, all with the perfect colors to complement the Christmas season. Wren's house was the perfect venue, expertly decorated by Bev. Lucinda handled the donations and financial reports. Tina arranged for the wine to be donated. The rest of us had tasks, too: cooking, buying plates and cups, crafting and mailing invitations. Susan was in charge this year and coordinated the affair. The Good Lord helped by holding off the rain.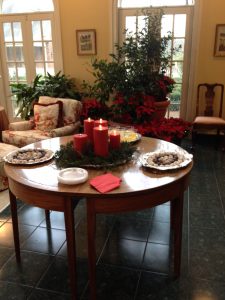 All the components were there: careful advance planning, a team of skilled and enthusiastic people, the perfect base of operations, and cooperative weather.
At the appointed hour, about 160 generous donors began to arrive. The crescendo of excitement peaked; time to launch the party! After the guests left, we landed around the table to bask in the thrill of victory and eat the leftovers.
How different are the things I am learning now from those of my past life…
At one time I knew exactly where the bile duct exits the liver, how to move the stick and throttle of a jet to make it fly right, and which hydraulic systems on a Space Shuttle got it up into orbit. Later I learned how to run a large medical group and grow a small start-up company. Now, in my current life, that knowledge has become irrelevant.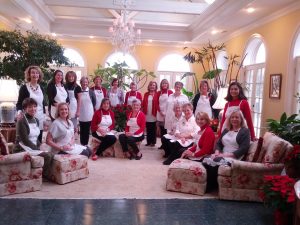 Today, I take delight in learning other things.
Who knew that a freshly-baked casserole could be wrapped in newspaper, put it in a cooler, and served hot later in the day?
Who knew evergreen boughs, magnolia leaves, apples, and cinnamon sticks could create a magnificent table arrangement while spending almost nothing?
Who knew I would someday be able to put words together well enough to become a writer?
We are all geniuses in our own way. Launch your life with enthusiasm and continue to learn! — Rhea
If you'd like to receive my blog to your inbox each month, we'd love to add you to our email list. If you have not yet signed up, please do so today by

clicking here.

Subscribe to Dr. Seddon's YouTube Channel here!